Sunday, March 1st, 2015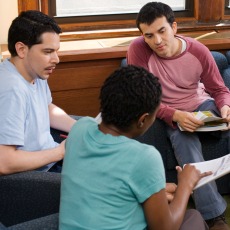 Many faculty now have students work in teams to complete course-long projects that are designed to accomplish multiple course objectives and that count for a significant part of the course grade. These groups do not always function well, which concerns faculty. If experiences in groups do not develop good teamwork skills, then maybe it's better not to use groups and have students do assignments individually. Frequently that's what they prefer anyway.
The counterargument for group assignments involves the expectation that people will be working in groups throughout their careers, and if they don't have the necessary skills, the consequences can be significant. Group work in college courses is a better place to develop those skills. The environment is safer, and there's the opportunity for constructive feedback. But that's still a challenge for teachers when they have multiple groups working on projects online or outside class. It's pretty much impossible to keep track of what's happening in every group, so students need to take responsibility for how they are working together. The issue is what teachers can do to help them when they are new to group work or come to it with less than satisfactory skills.
A recent and excellent article that proposes a model for "building teams that learn" recommends that teachers have students develop a team charter early in their interaction. "Completing a team charter encourages team members to set goals and discuss how they will work together; it begins the discussion about expectations for participation and performance." (p. 708) As a working document, it helps establish norms that contribute to group effectiveness. The authors see the team charter as a "necessary first step" to evolve from being a group to being a team. (p. 708)
by Maryellen Weimer, PhD
Read more @ http://www.facultyfocus.com/articles/instructional-design/use-team-charters-improve-group-assignments/#sthash.6BCcCMzK.dpuf