Using Synchronous Tools to Build Community in the Asynchronous Online Classroom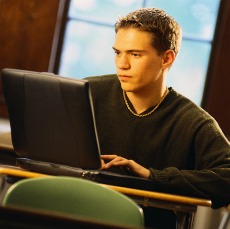 Sometimes students in the online environment just need that extra nudge to feel connected in order to truly excel. As instructors, we can facilitate community-building in an asynchronous environment by utilizing synchronous tools, such as Wimba, Skype, Elluminate, and others available to us via our learning management system or outside of the LMS.
Using synchronous tools may at first seem impractical for online instructors. If students are taking online classes, doesn't that mean they want to be able to work whenever, wherever, with no time or date restrictions? In many cases, yes—but there are times when online students need one-on-one help, and synchronous tools are able to facilitate that support much more effectively than the usual email back-and-forth or phone conversation. I've found that when I've used synchronous tools with students, they were more willing to ask questions and interact with their fellow students in the classroom afterwards. Let's explore some reasons why.
Synchronous tools can help humanize the classroom. Instead of words posted on an electronic screen, we become real to our students, not just words or avatars or photos on a screen — we become human.
Setting up open office hours via a synchronous tool allows students to reach out in a specific time window with questions and get a real-time answer. The power of that communication is twofold. First, students immediately get a sense of community. Someone is there, willing to work with them on their concerns and to answer their questions. Secondly, students can still reach out for help using their computer, and do not have to reach for their phones to connect to instructors to hear their voice.
Many synchronous tools allow us to use video or face-to-face chat, allowing the student to see our faces as we speak to them about their direct concern. Visual learners can watch us talk through a problem using video and screen capture or web navigation tools. Screen sharing tools, such as those embedded in Elluminate, allow students to share their screens with us, so we can take a look at a paper draft in process or a math problem that's only halfway completed.
by Michelle Kosalka.
Read more @ http://www.facultyfocus.com/articles/asynchronous-learning-and-trends/using-synchronous-tools-to-build-community-in-the-asynchronous-online-classroom/