How to solve the problem of truancy?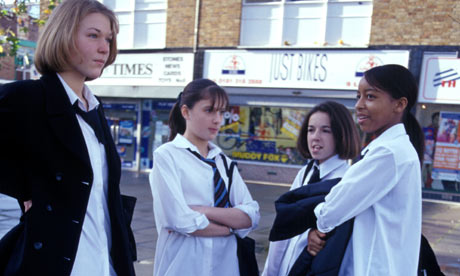 Group of school girls out on the street. It's now harder to just miss a single lesson, so pupils take the whole day off Photograph: Bubbles Photolibrary /Alamy
"I had a Welsh speaking test. I'd had to memorise a paragraph and speak in front of the whole class. I just couldn't do it," says 13-year-old Hayley from Cardiff. "I pretended to be ill." But Hayley did not enjoy her day off. "I watched TV all day – it was boring. I wished I had gone to school."
Hayley's story is not unusual. According to the latest government figures, pupil absences are rising, despite schools taking a hard line on truancy.
Philippa James, a PhD researcher at Cardiff University's school of social sciences, thinks she knows why: "The more schools improve methods of detection, the more children work out better methods of deception."
James has researched student truancy for several years and is about to publish a year-long study of 60 teenagers, aged 13 and 14, including Hayley, in which she checked to see whether the teenagers were truanting, for how long, and why. James says her findings reveal many of the assumptions that underpin government policy on school absenteeism are false.
The scale of the problem is significant. Absence and truancy rates are calculated by the number of half-days of school missed. In the autumn term of 2008 and the spring term of this year, pupils in state primary and secondary schools missed 1.03% of possible half-days without permission, figures released last month from the Department for Children, Schools and Families show. This compares with 0.97% of half-days missed for the same period the year before.
But James believes her study, though on a much smaller scale, proves such figures are "relatively meaningless".
"The statistics are unhelpful," she says. "Students are very good at 'hidden' absences – things like hiding in the toilets, or leaving a lesson after being marked present. Those won't be included in the figures. It's more important to look at the reasons for truanting."
More radically, her research shows very little evidence of a correlation between truancy and socio-economic background, or criminal activity. "The main social concern about absences from school is about what young people are doing when not in lessons. My findings suggest it's not fair to say that truancy causes crime," she says.
"Over the year, I noted a very low level of crime – it was mainly smoking. So many people truant that some will always engage in crime, but they do so outside of school time too – the act of truancy doesn't cause it."
James challenges the idea that truants are non-conformist pupils, or less academically able. The teenagers in her study were from three Cardiff comprehensives with different socio-economic catchments. "Skipping school was a common coping strategy, evident in each school," she says. "Mostly it was occasional, but widespread. It certainly wasn't carried out only by pupils in lower socio-economic groups."
Trying to gauge the reasons for bunking off was not always easy. James mainly contacted her subjects via instant messenger, which allowed her "almost daily contact". It also enabled her to separate herself from teachers and other figures of authority. Through online conversations and face-to-face interviews, she discovered that most truancy was "a response to factors within the school". Students complained of supply teachers who failed to engage them, and of "boring" lessons.
by Lucy Tobin.
Read more @ http://www.guardian.co.uk/education/2009/nov/03/bunking-off-school-pupils-truancy