Making Academic Advising an Institutional Priority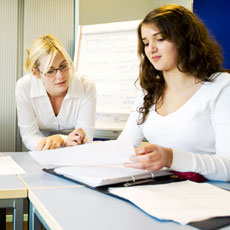 If some faculty do not fully embrace their role as academic advisor, don't assume that they are indifferent to students' needs or feel that advising is strictly a student affairs function. More likely, this reluctance is due to a lack of preparation and support.
This was the case at LaGuardia Community College. "Once we started peeling back the layers, we found it was all about faculty needing more information, knowledge, confidence, and support about how to engage students. They weren't against doing advisement, and I'm sure that's the case in most institutions," says Bernard Polnariev, executive associate to the dean of academic affairs at LaGuardia Community College.
More than course selection
Polnariev and his colleague Mitchell Levy, executive director of LaGuardia Community College's Center for Counseling, Advising & Academic Support, have implemented a faculty development program—the Art of Advisement Faculty Development Workshop Series—that goes beyond the informational elements that comprise most advising preparation programs. This program, which won the NASPA 2011 Student Affairs Partnering with Academic Affairs (SAPAA) Promising Practices award, consists of three parts. In addition to the informational elements (course selection, institutional policies), this program includes conceptual (student development theory) and relational (building rapport) elements.
by Rob Kelly
Read more @ http://www.facultyfocus.com/articles/academic-leadership/making-academic-advising-an-institutional-priority/