English Week at SIDMA College (March 2014)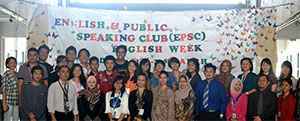 The English & Public Speaking Club SIDMA College, UNITAR Sabah, headed by Katrina Claire Reyes, had organized a fun-filled week of activities from 17 – 21 March 2014, namely a bake sale combined with a mini "garage" sale, an essay writing competition, a paired-scrabble competition, a singing competition, and a public speaking competition. A project like this encourages students to sharpen their English language skills, apart from providing them with a channel to showcase their talents and abilities. Through English Week, the club focused on showing how English is a unique and beautiful language, and why mastering it is crucial in ensuring a successful future. A project like this would also allow the English and Public Speaking Club members to hone our management skills, and establish stronger bonds among members.
Prof Dr. Morni Hj Kambrie, Chairman of Sidma College, presented an inspiring speech in which he shared his own experience about learning the English language, believing it to be a valuable asset to possess. Being a successful public speaker himself, Dr Morni is always in favour of giving talks in universities, schools, events, or functions. He encouraged the students here in Sidma College that in order to master the language, one should never stop to practice in speaking and writing in the English language.
In conjunction with the closing ceremony of English Week, Puan Azlina Ngatimin (Director of Corporate Relations & Business Development) and Puan Azizah Khalid Merican (CEO of Sidma College) took time off to honour the event by awarding prizes to winners and participants of the competitions. Souvenirs of appreciation were also presented to all judges who consisted of lecturers and staff of Sidma College. Lucky draws were furthermore an exciting part of the morning. It was fascinating to witness the cheers and excited winners running up to the stage to collect their presents.Also present that beautiful morning were Ms Florence Ajadap, the club's advisor and a lecturer in Sidma College, lecturers from all faculties and staff of Sidma College.
Winners for English Week are:
Essay Writing Competition:
1st Place:Mohd Kamal Bin MohdTaib
2ndPlace:Samantha Michelle Jiun
3rdPlace:Nelson Andrea Dic
Paired Scrabble Competition:
1st Place: IkhwanTharwan& Ashley Radha Nathan
2nd Place: Ivan Wong &JazliAkmal
3rd Place: Deasy Souza Peter &EnjilinaMartinus
Singing Competition:
1st Place: Leonni Johnny
2nd Place Famela Louis
3rd Place was Michelyn Larissa Micheal
Public Speaking Competition:
1st Place:IkhwanTharwan
2nd Place: Ivan Wong
3rd Place: Jazli Akmal
Read more @ http://www.sabah.sidma.edu.my/sidma2010/index.php?option=com_content&view=article&id=608%3Aenglish-week-at-sidma-collegemarch-2014&catid=23%3Astudents-activities&Itemid=615