SIDMA College staff gets Harvest Festival goodies! (May2014)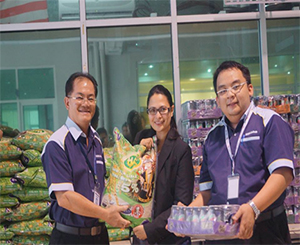 The Kaamatan Festival (Pesta Menuai) is a very unique rice harvest festival celebrated on 30 and 31 May annually. The largest indigenous group of Sabah, namely the Kadazandusuns, who were mainly agrarian and subsistence rice farmers, celebrate this annual event with good spirits, cheer, and festivities.
Sabah's harvest festival is closely associated with the cultural and religious belief systems in which the "Bobohizans", the female shamans played a paramount role. It is a complex religious practice centered on the paddy rites of passage and the life cycle of Bambarayon – the in-dwelling spirit of paddy.
For generations, the Kadazandusun ethnic community of Sabah has celebrated Kaamatan as a thanksgiving for a bountiful paddy harvest, close family and friendship ties, and a hope for continuous good harvests in years to come.
The theme for this year celebration is "Culture: Foundation of Peace and Friendship" (Koubasanan – Koimpowon Do Pibabasan Om Piombolutan), which is most appropriate as family and friends do make that extra effort in coming together for family gatherings.
During this auspicious occasion, Prof Dr. Morni Hj Kambrie, SIDMA College Chairman announced the distribution of Kaamatan goodies to its staff celebrating the festival as a symbolic gesture to thank all who had loyally supported and contributed towards SIDMA's good "harvests".
Goodies in the form of canned drinks and sacks of 10 kilogram rice were distributed to all staff by Puan Azizah Khalid Merican (CEO SIDMA College) on 28 May 2014 at SIDMA Atrium beginning 4.00 pm. The event was managed and coordinated by SIDMA Staff Welfare Association (PKKKSS), headed by Mr. Zain Azrai.
Mr Zain Azrai, on behalf of PKKKSS committee and all SIDMA staff took the opportunity to thank Dr. Morni (and family) for his generosity. He felt that we, as staff of Sidma College, are fortunate and blessed to have a just and caring boss; someone who takes into account his staff's welfare as one of his many important priorities; a man whose heart is for his people – people of all races and cultural traditions. This is just one of his many humble ways of fostering, preserving and propagating harmony and unity through diversity of our college.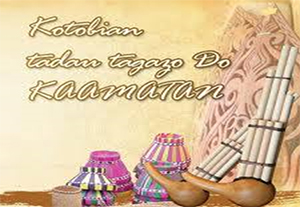 Kotobian Tadau Tagazo Do Kaamatan and Happy Harvest Festival Celebration from Prof Dr, Morni Hj Kambrie, Puan Azizah Khalid Merican, Puan Azlina Ngatimin (Director), Mr Lim Chin Tong (Registrar), Mr. David Tiongin Lumbok (Chairman, Board of Governance), Managers, Heads of Departments, Lecturers and staff.
Read more @ http://www.sabah.sidma.edu.my/sidma2010/index.php?option=com_content&view=article&id=615%3Asidma-college-staff-gets-harvest-festival-goodies-may2014&catid=24%3Astaff-activities&Itemid=616