Nine Characteristics of a Great Teacher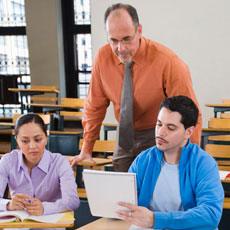 Years ago, as a young, eager student, I would have told you that a great teacher was someone who provided classroom entertainment and gave very little homework. Needless to say, after many years of K-12 administrative experience and giving hundreds of teacher evaluations, my perspective has changed. My current position as a professor in higher education gives me the opportunity to share what I have learned with current and future school leaders, and allows for some lively discussions among my graduate students in terms of what it means to be a great teacher.
Teaching is hard work and some teachers never grow to be anything better than mediocre. They do the bare minimum required and very little more. The great teachers, however, work tirelessly to create a challenging, nurturing environment for their students. Great teaching seems to have less to do with our knowledge and skills than with our attitude toward our students, our subject, and our work. Although this list is certainly not all-inclusive, I have narrowed down the many characteristics of a great teacher to those I have found to be the most essential, regardless of the age of the learner:
1. A great teacher respects students. In a great teacher's classroom, each person's ideas and opinions are valued. Students feel safe to express their feelings and learn to respect and listen to others. This teacher creates a welcoming learning environment for all students.
by  Maria Orlando, EdD