Maximize In-Class Time by Moving Student Presentations Online.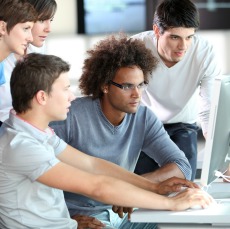 As a faculty member, I am always challenged with finding pedagogical techniques that allow my students to connect with course content, each other, and myself in new and interesting ways. Student presentations can help achieve this goal, but they require a wealth of time for each student to present and get immediate feedback from peers and the instructor. Some classes are so large that in-class presentations may not be feasible at all. Or, if you are a faculty member who is not on a block schedule, you would have to use several of your 50-minute class sessions to allow each student a chance to present his or her work. What's more, some students have a difficult time listening to dozens of peer presentations in one sittings and may tune out after the first few presentations.
After facing all of these issues, I sought out other options that would allow for quality student presentations, but did not take up too much valuable in-class time. The answer for me is virtual student presentations, which allow students to research scholarly literature related to course content, present their findings, and receive peer feedback; all outside of class time. With virtual presentations, students can not only connect with content, the instructor, and each other; but they can also build their capacity to leverage technology to impact their learning.
Here are the four steps to implementing virtual presentations:
Step 1: Work with students on a presentation topic. Typically, I have students research a specific course-related topic already covered in class with the intention that they will develop a deeper level of expertise. Students also can use these presentations to flesh out content that is mentioned in the course textbook, but is not written about in detail. Either way, the topic should connect to course objectives and content in an intentional way, as well as provide students the opportunity to choose a topic that interests them. Once a topic has been determined, you must choose a distinct purpose for the presentation. I have had students synthesize and explain the findings of several research articles, as well as discuss how they plan to use the information in future practice.
by Stephanie Smith Budhai, PhD
Read more @ http://www.facultyfocus.com/articles/teaching-with-technology-articles/maximize-class-time-moving-student-presentations-online/#sthash.qWU14oxi.dpuf