SMK Terusan Lahad Datu Career and Education Carnival 2018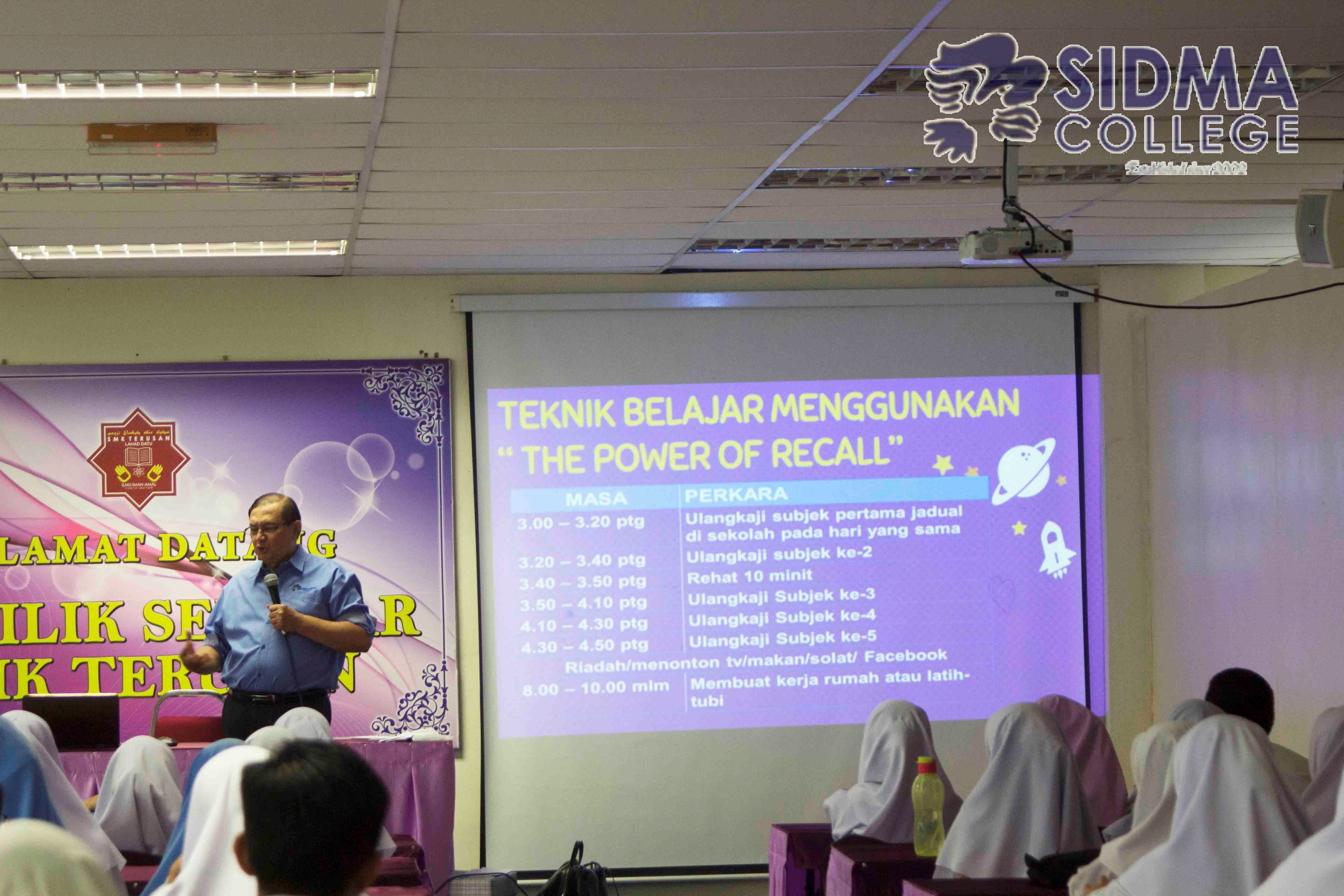 Dr Morni Hj Kambrie, Founder and Chairman of SIDMA College Sabah was officially invited to conduct a motivational talk in conjunction with Sekolah Menengah Kebangsaan Terusan, Lahad Datu Career and Education Carnival 2018 held at the school hall on from 10 to 12 August 2018.
The main aim of the event was to facilitate and give direct exposure about industries in various field such science, technology, engineering and management, and let the students explore the different fields and career paths that suits them. SMK Terusan has a total enrolment of about 2,000 students and majority are from various communities of Sabah; and it's through such Career and Education Carnival that could provide relevant information for them to select and realised that future dreamt career.
Other than focusing on SMK Terusan students in making decision about their future choice of tertiary education and career path, the carnival also aimed at providing relevant information to parents so that they could advise their children accordingly on their choice of tertiary education and career path. Other than that parents and students from all primary and secondary schools of Lahad Datu were also being invited to attend.
The programme was officiated by Honourable Datuk Mohammadin Ketapi, Minister of Tourism, Arts and Culture who is also the MP for Silam on 11 August; whereas the closing ceremony was officiated by the Honourable Tuan Haji Dumi Bin Hj Pg. Masdal, Assistant Minister of Rural Development and Assemblyman for N.50 Lahad Datu. Various government and private agencies were invited to set up exhibition booths to provide relevant information and exposure to both students and their parents on the actual pre-working environment and give a chance for students to know and reflect on the necessary requirements in recruiting new staff.
Dr Morni, who hold a MBA and PhD (Doctor of Philosophy) and has lectured for several universities, namely Edith Cowan University, Australia, Bath University, Malaysian Institute Management and Universiti Malaysia Sarawak (UNIMAS) prior to becoming a successful businessman in the field of education; has always been portrayed as an unique motivational speaker, well-known for his entertaining, captivating, highly interactive and energizing when he is on stage delivering his message, was given the  honour to motivate the students and parents on the importance of securing good education achievement (both in basic and tertiary education) in order for them to materialise their dreamt future.
According to Dr Morni, students can have the best teachers, and from the most supportive parents, as well as be in the best schools; but if they are not focused and lack direction in their studies; they will not be able to unleash their best potential and achieve the peak or the highest grade that they could get.
When students put in their best effort and full commitment to their studies, Dr Morni stressed that everyone can achieve their highest potential in education. He presented himself as a possible example that of an ordinary average student could learn and become successful in their education achievement, despite being from a poor family.
He took the opportunity to share with the parents, teachers and students on his success stories from being a humble ordinary kampong boy selling homemade cakes to the public, but because of his strong personality to aim high and willing to work hard and sacrificed, as well as being committed to his studies, he finally earn his PhD (Doctor of Philosophy) and that was what brought him as he is today.
Touching on the aspect of examinations, Dr Morni affirmed that examinations are the most wonderful thing in any human's life, as it provide opportunities for us to test our abilities, strength, self-discipline, self-management and more. Those who are scared of it have failed from the very beginning. Thus, he advised all students not to be scared of examinations, but to take it positively and faced the challenge, and come out stronger and fitter to face the world. He advised them to learn to like it, and when you like it, you will love to take more examinations, and thus developed and equipped themselves with more knowledge and better skills which is very much needed for their future career.
Dr Morni also advised the parents and students to think and consider very carefully on what's next after their SPM (and STPM) examinations. He also advised the students to discuss with their school career counsellor in order to understand themselves better. He told them that their hopes and dreams for the future can only be materialised if they understand who they are, what they want, and also how to reach their goal. He added that it's through finding out which field of study that they are interested in that will enable them to determine a good career that will match their future dreamt career. He advised the students to visit all the exhibition booths and counters and discuss in depth with eligible personnel, prior to their making decision on their choice of tertiary education and career.
Dr Morni also took the opportunity to sincerely thank Mr Che Aziz Bin Othman, SMK Terusan School Principal, for special inviting him to share knowledge and experience, and he felt honoured to be given the chance to welcome the teachers, parents and students of Lahad Datu. He hope that his sharing session could inspire the students to take positive actions, view their situation from a broader perspective, and discover their own strength before progressing into their future career.
Dr Morni was also very grateful to note that six SIDMA College UNITAR Sabah B. Edu (Hons) graduates are currently serving in the school. He hoped that they have and will serve the school with full dedication and ambition; and are able to defeat their ignorance and accomplish the extraordinary. "Good luck and congratulations to you all", he added.
Mr. Che Aziz thanked Dr Morni and SIDMA College top management for participating in the carnival and personally congratulated Dr Morni for his inspiring motivational talk and sharing sessions. He hoped that Dr Morni and SIDMA top management will always be blessed with the necessary strength, resources and supports required for them to continue providing similar activities in complimenting and supplementing their existing programme to other schools as and when needed. He added that it's through such collaboration and cooperation between the public and the private sectors in the field of education that will ensure the success of our students to meet the country's demands for the 21st Century Skills Development.
Read more @ https://www.sidma.edu.my/index.php/all-bulletin/89-news/174-smk-terusan-lahad-datu-career-and-education-carnival-2018