Strengthening the Professional Development among Early Childhood Educators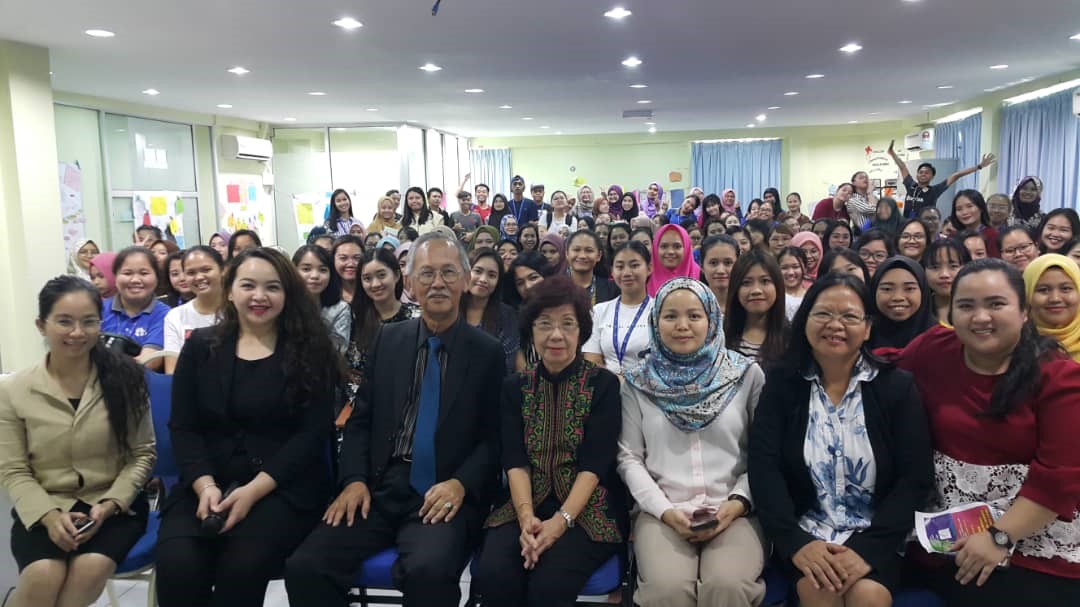 Datuk Dr Chiam Heng Keng, founder of the Executive Diploma, Bachelor and Master in Early Childhood Education at the University of Malaya, then the first of such programme to be offered in Malaysia. Her first batch of Early Childhood Education students graduated in year 2000, marking the beginning of professionalism in Early Child Care and Education in Malaysia. Currently she is the President of Early Childhood Care and Education Council Malaysia and has always been regarded as a well-known authority in child development and early childhood education.
On 5 July 2019, Datuk Dr Chiam took her time to talk to more than 500 lecturers and students (both Diploma and Bachelor of Early Childhood Education students) at SIDMA College Sabah on "Early Childhood Education Current Developments and Career Prospects in Malaysia".
Datuk Dr Chiam explained that Early Childhood Care and Education (ECCE) in Malaysia has evolved structurally from two separate units comprising of childcare and preschool which are placed under the Ministry of Women, Family and Community Development, and the Ministry of Education respectively to an integrated entity to provide a smooth progression from childcare to preschool. She added that both the Ministries have formed a committee, co-chaired by the respective Ministries to streamline the regulations and operations of early childhood educations.
Regarding the Standards on what a child in preschool today needed, Datuk Dr Chiam stated that the Malaysian Qualifications Agency (MQA) has set up Programme Standards for all ECE programmes, ranging from Certificate to PhD in ECE, which was enforced in May 2015. The programme standards contained all the knowledge and competencies needed by every preschool teacher to become a professional early childhood educator and she sincerely hope that all ECCE educators read and immerse all the elements in it.
On the teaching and learning aspect, she added that teacher does not merely teach the children on how to read, write and draw but must also provide the right context, environment and experience in order to give them strong foundation and the right start in life. Thus ECE teachers must therefore be ethical and morally correct in order to ensure the health and safety of the children as well as the curriculum should enable the teacher to develop and assess the child good mental health and discipline.
On this aspect, the Ministry of Education has taken the lead and develop national teaching and learning standards that incorporated components from languages and cultures of different ethnic groups to address the issues of differences in curriculum, instruction, and teacher preparation.
Every child is precious and children are assets to the future of our country. They are the most valuable asset of our nation; and to develop a nation and its people will all begin with early childhood education. In developing a child's potential, we are really developing the human capital of the child and of the nation. We must enable the child to grow holistically so that the child is equipped with abilities, knowledge and skills to become a productive member of our country, she added. Towards this end, the Ministry has enforced Diploma in Early Childhood Educators as the minimum qualification of all preschool teachers by 2020.
She also shared that, under the Child Care Centre Act 1984, the Department of Social Welfare is providing interventional programs for young children through Child and Maternal Clinics. Such services provide educational assistance to the children from low income families to better prepare their children with skills they need to improve educational attainment and to promote quality life. This is to ensure educational equality and thus narrowing the educational gaps between majority and minority groups and consequently will create harmony and resolve the inter-ethnic issues. She added that ECCE teachers are not only there to teach knowledge, but also to advocate for the child.
Early childhood education is a diverse field that involves the care and education of children of children birth until the age of about 6 years. The Malaysian government places a strong emphasis on ECCE and has formulated the National Policy for Early Childhood Education. Under this policy, programmes have been introduced to meet the diverse needs of the crucial early years of new-borns till the age of six. These programmes provide a solid foundation for healthy growth and development which expose them to activities in nation-building and enhance their readiness for primary school education. The government's involvement in ECCE is evident from its numerous initiatives to make early childhood education more accessible especially for the less fortunate children and those in rural areas.
For those interested in child development, particularly how a child's formative period is developed emotionally, physically and intellectually, one might find rewarding career opportunities in early childhood education. Among some of the occupations that one can explore are the direct service careers, supportive service careers and related careers.
Prof Dr Morni Hj Kambrie, founder and chairman of SIDMA College thanked Honourable Datuk Dr Chiam Heng Keng for her valuable time to come to SIDMA College Sabah and talked to its ECCE lecturers and students. He too hoped that all the students will benefit from this sharing session and will reflect it when practicing it in schools after their graduation soon.
Dr Morni pride that SIDMA College Sabah offered a wide range of programmes through its collaboration with UNIRAZAK (Universiti Tun Abdul Razak), UNITAR (UNITAR International University) and CUCMS (Cyberjaya University College of Medical Sciences) in various fields of studies such as Foundation in Management, Diploma in Early Childhood Studies, Diploma in Occupational Safety and Health, Diploma in Business Administration, Bachelor Education (Early Childhood Education)(Hons), Bachelor in Education (Hons), Bachelor in Business Administration (Hons), Business in Management (Hons), Bachelor in English (Hons), Masters of Management, Masters of Business Administration, and more; which are tailored made to meet and produce competence graduates with industry-ready skills and technical knowledge for career progression.
SPM/STPM/STAM school leavers and Diploma and Degree holders considering to furthering their studies are welcomed to visit SIDMA College Sabah / Sarawak for more information and registration. Those from Sabah are welcome to call SIDMA Hotline: 088-732 020 or 088-732 020 for more information and registration.
Read more @ https://www.sidma.edu.my/index.php/en/all-bulletin/89-news/227-strengthening-the-professional-development-among-early-childhood-educators