Dr Morni and Dr Zaida Seminar on Positive Parenting Skills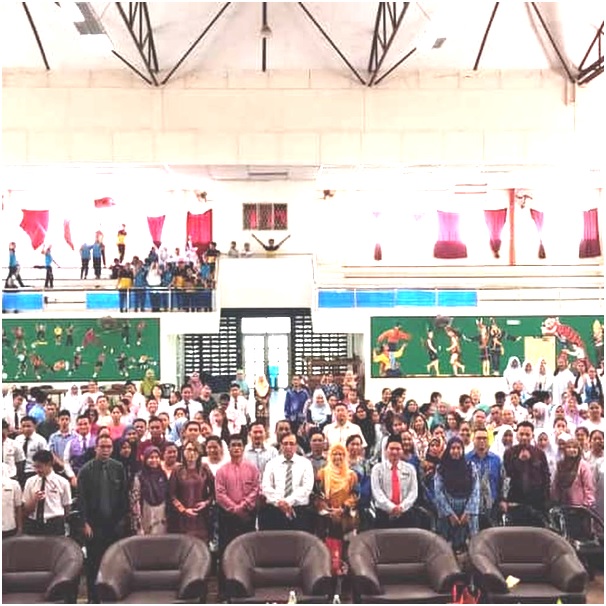 Prof Dr Morni Kambrie, Chairman and Founder SIDMA College collaborated with Prof Dr Zaida Mustafa, Dean, School of Education & Humanities, Universiti Tun Abdul Razak (UNIRAZAK) and collectively presented a Seminar on Positive Parenting Skills (Seminar Keibubapaan dan Kanak-kanak) at SMK Gunsanad II, Keningau on 27 August 2019.
Prof Dr Zaida Mustafa, who has been serving for more than 30 over years in various capacities with the Malaysian Ministry of Education (MOE); and for six years as the Dean of UNITAR International University prior to her current position as the Dean at UNIRAZAK. Her vast experience, knowledge and skills gained throughout her service has enabled her to collaborate with Prof Dr Morni to develop and presented at the seminar on positive parenting skills recently.
Prof Dr Morni Hj Kambrie was a UiTM lecturer prior to continuing his MBA in Scotland (1987) and PhD in 1990 has developed his interest in education since he was a lecturer back in 1984, and later as a lecturer with Edith Cowin University, Australia. Prior to his establishment of SIDMA College, he was engaged as a contract lecturer at University Malaysia Sarawak (UNIMAS).
Both Dr Morni and Dr Zaida are unique motivational speakers, well-known for their entertaining, captivating, highly interactive and energizing delivery techniques when they are on stage presenting their talk. When Dr Zaida was serving with MOE, she was appointed as an International Trainer, and has been giving talks to top education officers at international level.
With such combined unique background knowledge, experience and findings in the education of the young, both Dr Zaida and Dr Morni combing efforts to share parenting skills in a very meaningful, thought provoking, motivational as well as entertaining sharing to help parents in disciplining kids from toddlers to teens, particularly parents and students from the rural setting such as in Keningau, Sabah.
The goal of parenting is to teach kids to develop self-discipline; and many parents feel that spanking is necessary, an effective method to develop effective discipline. However, both Dr Zaida and Dr Morni talked about disciplining kids from toddlers to adolescents by focusing on developing their self-emotion – ensuring that children feel positive about themselves and to be the winners they were meant to be. For that, they both shared lots of practical solutions for parents to improve communication, building positive relationship as well as sharing other useful parenting skills; and avoiding negative skills such as yelling, screaming, spanking, caning, etc.
More than 250 teachers, parents, and students from secondary schools in and around Keningau district such as SMK Keningau, SMK Keningau II,  SMK Apin-Apin, SM St Francis Xavier, SMK Bingkor, SMK Agama Keningau, SMK Gunsanad, SMK Tulid, SMK Sook, SM Ken Hwa, and SMK Gunsanad II sent their representatives mainly from the upper secondary classes to participate in the event.
Encik Masly bin Wahip, Keningau District Education Officer, who was amazed by Dr Zaida and Dr Morni's efforts to motivate and share the positive parenting skills and ideas thanked them sincerely for their efforts. He particularly thanked Dr Zaida who took time off to travel all the way from Kuala Lumpur to present and share some of the useful parenting skills technique.He too thanked all the Keningau secondary schools principals for their cooperation in sending representatives to this complimentary professional development event, and he hoped that they benefit from attending such activity.
At SIDMA College UNIRAZAK Sabah various courses are offered as follows:
Master of Management
Master of Business Administration
Bachelor of Education (Hons)
Bachelor of Early Childhood Education Hons)
Bachelor of English (Hons)
Bachelor of Management (Hons)
Diploma in Early Childhood Education
Diploma in Management
Diploma on Occupational Safety and Health
SIDMA College UNIRAZAK Sabah September 2019 Intake of new students are now in progress. SPM/STPM/Diploma school leavers are warmly welcomed to visit the college located at Jalan Bundusan, 88300 Kota Kinabalu to get more information and also to register. You can also make enquiries by calling SIDMA Hotlines 088-732 000 or 088-732 020 or Whatsapp to 013-865 4877. See you soon!
Read more @ https://www.sidma.edu.my/index.php/en/event-2/236-dr-morni-and-dr-zaida-seminar-on-positive-parenting-skills