Competition to promote innovative ideas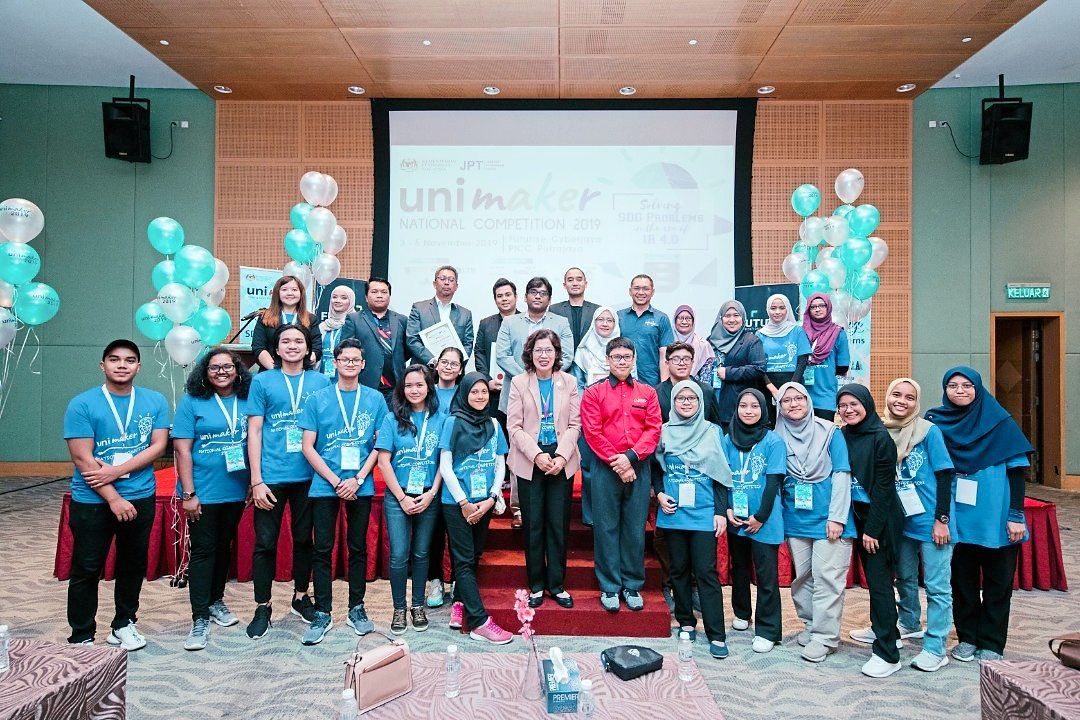 (bottom row, eighth from left) Unimaker 2019 secretariat chairperson Prof Dr Rofina Yasmin Othman together with other secretariat members, participants and sponsors, after the Unimaker 2019 workshop.
IR 4.0
HAS brought with it many new technologies and disruptive new models that change the way we live.
However, what does all this mean for sustainable development and future-proofing ourselves?
This is the challenge Malaysia's future graduates took on to figure out in the Unimaker National Innovation Competition 2019.
The competition is to promote innovative ideas created with the theme "Solving Sustainable Development Goals (SDG) Problems in the Era of IR4.0".
"The Industrial 4.0 can make a considerable contribution to meet the SDGs. It advances human wellbeing in a range or areas such as healthcare, water, agriculture and livelihoods, natural resource management, energy and infrastructure," says Higher Education Department director-general Datuk Dr Siti Hamisah Tapsir.
She adds that the theme is in line with the ministry's tagline "University for Society" to reflect universities' pivotal role within local and global communities.
The competition was initiated by her department and is in line with the seventh shift in the Malaysian Education Blueprint 2015-2025 (Higher Education), which is Innovation Ecosystem., says Siti Hamisah.
She also says that the higher education sector must prepare graduates to handle new technologies and embrace IR 4.0.
"Thus the need to redesign the education system and transform the learning and teaching delivery as well as for industry sectors to enhance, reskill and upscale talents."
She adds that although technology is pivotal for education in the 21st century, skills such as critical and creative thinking, and communicative skills cannot be taught by machines.
The Unimaker National Innovation Competition 2019 was organised by the Education Ministry's Higher Education Department in collaboration with Universiti Malaya (UM) for the second year running.
More than 40 finalist teams from 20 public institutions of higher education (IPTAs) competed in the finals.
The finalists attended a preparation workshop to explore some of the modules including Design Thinking, Presentation and Hardware & Software Prototype.
The top three winners received cash prizes, prototype grants and guidance from sponsors, and sponsorship of a co-working space at MaGIC, facilities utilisation at Makers @ University, award plaques and certificates. They will also be listed in the Futurity initiative.
There was also an exhibition by the finalists at the Industrial Revolution 4.0 Education Colloquium to promote their innovative ideas.
The programme was funded by the Higher Education Department, sponsored by Futurise Sendirian Berhad, MyCRO, Malaysian Global Innovation and Creativity Centre (MaGIC) Global Entrepreneurship Movement Association, and e-fm was the official media channel.
It was jointly led by UM, representing the Central Zone, Universiti Sains Malaysia representing the Northern Zone, Southern Region by Universiti Teknologi Malaysia representing the Southern Zone and Universiti Sultan Zainal Abidin representing the Eastern Zone.
Universiti Malaysia Sarawak represented Sabah and Sarawak.